Amazon Return Policy can be at times very confusing. Amazon enables its customers to deal with returns and refunds easily within a few simple steps. But while returning, the customers are heaped upon by certain conditions and restrictions.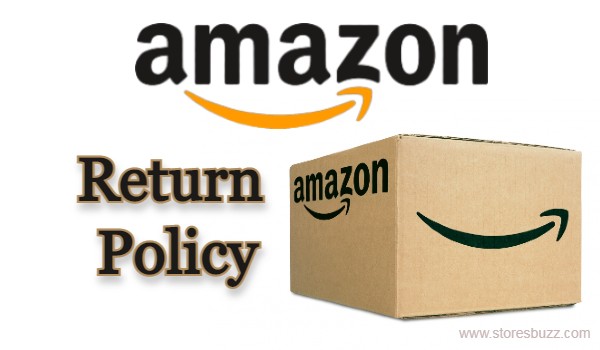 We are here to discuss all of them for you. We have stated the step-by-step process of 'How to return an Amazon order?' and provided all the required details about Amazon refunds.
People also look:
Keep reading this article till the end to solve all your queries regarding Amazon Return Policy.
Things to Know Amazon Return Policy
It has been often observed that even after several phone calls and live chat sessions with the Amazon service providers, the "Amazon Return Policy" remains unclear to many. The following points has to be noted in order to return your order to Amazon:
Has to be returned within 30 days from receiving of the shipment. Amazon has extended its return window to thirty days in several locations including USA and Canada.
Amazon follows a free shipping policy for items that are returned within 30 days.
Check the list of products that cannot be returned by clicking on https://www.amazon.com/gp/help/customer/. Tap on 'Items that Can't be Returned' and check the list.
You can apply for a refund if the product is damaged, defective or not what you ordered.
The items are supposed to be directly sold by Amazon. In case of third-party sellers, you need to see the details under 'Returns to Third Party Sellers.' Usually, the 30 days window applies to both.
You need to click on 'Mistaken Returns' for returning any item that has been mistakenly delivered to you.
If you want to return any item that was purchased from Amazon Global Store, you should check the tab called 'Amazon Global Store Returns.'
In order to seek information about the timing of refund, see 'Refunds.'
How to Return Items to Amazon? – Step-by-Step Process
An easy way of returning an item to Amazon is by simply visiting the details of the order from the official app or website. If the item is returnable according to the terms and conditions of Amazon, you will automatically see an option appearing – 'Return or Replace Item.'
If not, it will simply mean that the purchased product cannot be returned. Some non-returnable items on Amazon: –
Downloadable Software products
Grocery products
Selective jewellery orders
Selective personal/ health care products
Online subscriptions
Gamecards
Besides these few item categories, almost everything that you buy has an option to be returned. Follow the steps bellow: –
Step 1: Visit www.amazon.com. Go to 'Your Orders' tab.
Step 2: If you want to return a gift, click on 'Return a Gift.' If it is an item that you want to return or replace, choose the specific order and click on 'Return or Replace Items.'
Step 3: Under the 'Reason for return' menu, state the reason why you are returning the product briefly. In case of a third-party Amazon seller, you need to click on 'Submit return request.'
Step 4: Choose your preferred return method.
Step 5: You will be provided with a return label and authorization. You may print them.
Step 6: Make sure that the package is intact with the return label on it. A set of instructions will be displayed to mailed to you from the Returns Centre. Follow them carefully.
Step 7: Check the status, as in, when Amazon will pick up the package from your address or when will your product be replaced through 'View Return/Refund Status' option.
Can You Return used Items to Amazon?
A very important question that pops up in a customers' mind is regarding the packaging of the product that they wish to return to Amazon. Often, after receiving the order, out of excitement we tend to tear apart the packaging. This might be a drawback for the ones who find the product defective or wish to return it.
Amazon states that the product should be returned with its packaging and certificate/ bill of authenticity. In fact, in case of Fine Art items without the original documentation, Amazon will simple reject the item intended to be returned. All products are supposed to be returned in unworn and unused condition. So,
Do not tear the packaging.
Retain the documentation that comes along with the package.
Note that your product cannot return to amazon without the original packaging. Be careful each time you receive an order.
Also Read:
Can you return any product to Amazon after 30 days?
The easiest way is to check the "Your Orders" tab. Usually, the 'return items' option disappears after 1 month. But if it has not, you might count yourself to be lucky and go ahead with the procedure.
However, it's unpredictable. If you see no return option, click in "Help" button or call customer service. The Amazon representative will have a conversation with you either through a phone call or live chat.
It depends on the person if he/she is convinced enough to authorize your order for return. You can expect a refund for the product you are returning in this case. It can be in form of cash or gift cards.
Some Exceptions of Amazon's 30-day Return Policy: –
Amazon Warehouse certified goods can be returned within 90 days.
A few brands like Mama Bear, Presto, Happy Belly have a return window of 365 days.
In case of grocery items from Amazon Fresh, Amazon will not accept return. Instead, you can launch a complaint and get refund.
Conclusion
Many customers have had a poor shopping experience at Amazon due lack of their knowledge of Amazon Return Policy. As long as you can get a refund or replace your item with the desired one, shopping in Amazon is pleasant.
The 30 days to 365 days time window of Amazon Refunds or Returns depends on the type of product. We hope we could make you an informed customer in this regard. Keep following our articles for more!