Ross return policy is all you need to know about, when you are looking to return an item that you bought, but wasn't able to satisfy your needs, or perhaps they came damaged. If you wish to return an item at Ross, here is your step-by-step guide of how the return policy works, and how you can apply for a return request effortlessly.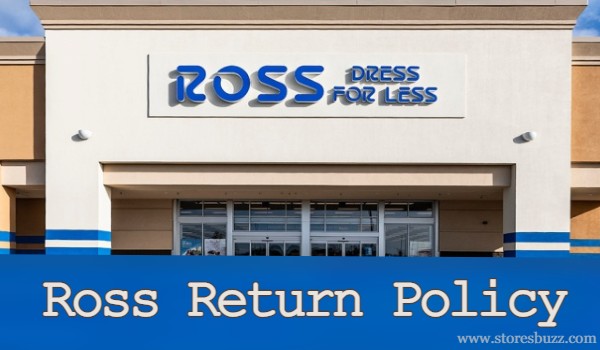 What is the Ross Return Policy?
"Ross return policy" uses a third-party refund verification system by which they prevent any possible fraud that can be done to this policy. This system keeps track of all return requests and allows only a few numbers of refunds to process finally, the number of which Ross does not specify.
Things to Keep in Mind, When Returning an item at Ross?
When you are looking to return any item at Ross, whether it is due to any pre-existing damage that was present in the product, or simply because you didn't like it and wish to return it, there are a few things you have to keep in mind, after shopping at Ross because of its rigid return policy.
The following things should be kept in mind when you are applying for a return request:
Do not lose your receipt,
Do not take off any tags or tickets of the item before returning for the inspection of them.
Make sure to inspect your items before it goes through the verification system.
What is Ross General Return Policy?
According to their general return policy, Ross does not offer any refunds, exchanges or store credits for items that have been used or worn or altered by a customer. When you wish to return an item purchased from Ross, you have to make sure to return them with their original receipt, that has been issued to the payment method used to purchase that item incase you are submitting for a return request. It needs to be done within 30 days of the date of purchase.
If you submit your return request after 30 days, Ross will compensate your request through their store credit or perhaps will exchange your item for any other of the same value, or simply not allow it. The discretion completely lies to them.
Return requests can be submitted at any Ross store. Software returns are accepted by Ross, only if the packaging has not been opened or the software turns out to be faulty. You are not eligible for a gift card refund unless your gift card balance is under $10 and you live in California.
Does Ross Accept Returns without Receipt?
Ross will compensate your return request inform of store credit or exchange the item for any other item for the same value, if you are able to provide a valid photo ID. In case, your receipt is damaged, as long as the barcode that is provided at the bottom of the receipt is visible, the return request is considered as valid.
Does Ross Accept Returns during Holiday Season?
Yes. Ross caters to return requests for an extended period during the winter holidays. The return deadline for items purchased in the month of December, beginning from the 1st itself till the 31st, is January 31st.
Ross Return Policy on fine Jewellery, Swimwear and Lingerie
The general return policy is applicable for the above items- fine jewellery, swimwear and lingerie, but there are a few additional terms and conditions that a customer has to adhere to before they apply for a return request on these items. The following conditions are:
Swimwear and lingerie are only eligible for the return, if the items have their original tags attached to it
Incase of fine jewellery returns, a receipt is required along with the original ticket that was attached to it
Return requests for fine jewellery are to be made at the fine jewellery department at Ross stores exclusively.
How to Submit a Return Request at Ross?
In case you are unhappy with an item purchased, or it appears to be damaged, you can apply for a return request at Ross. Return requests at Ross can be done by submitting them in the store. In order to submit a return request, you need to keep in mind the following:
Specify the payment information
Bring along your receipt
Provide your photo ID, in case you don't have the receipt
Make sure the original tags and tickets are attached to the item which you wish to return
When the above needs are met, a return request can be submitted to Ross from any of its stores, where you can leave the item in question at the help desks or the billing counter, for a staff to evaluate the condition of the item and make sure it ticks the following boxes, required to process a refund, that is provided under its return policy. Once its condition satisfies the person in charge, your request will be accepted.
Conclusion:
Ross return policy offers a full refund on the item that is returned, but not before making sure that it hasn't been used, worn or altered. As long as the product carries its original tags and the customer brings along the original receipt, within the 30 days of purchase.
The refund process will be made in the same form in which the payment was made of that particular product, unless its cash.