Have you lost your car key recently? Or want to make a duplicate key for your car? The easiest solution to this can be your nearest Walmart store. Walmart offers key copy service for their customers through Minutkey kiosk and that too in a reasonable price. The self-service system is quite convenient to use and totally hassle-free. Dig in further to know more about Walmart key copy service.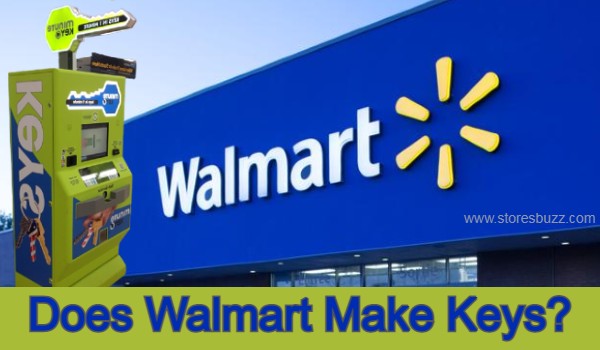 People also look:
Walmart Key Copy | Does Walmart Make Keys?
Walmart outlets have their own Minutekey kiosks for the customers to use and cut their own keys. If you have lost your car key or want to keep a spare one just in case, Walmart has got you covered. Now you don't need to go to all the way to seek help to the company or book a locksmith service.
Any nearby Walmart store offers this service now in 2022 in a very cheap price. But all the outlets may not have the key cutting machine installed. If you want to know more about it, keep reading.
How Does Walmart Cut Car Keys?
Walmart has one of the largest chains of retail shops all over the country. And along with that you can now get other services like getting duplicates of your keys. Walmart installs Minutekey kiosk machines in their outlets through which they produce keys for car, home, office etc. in just 1 minute. This is probably the most convenient way you can get a key.
You don't need to schedule an appointment and wait for a day or two before getting the keys tangibly in your hands. MinuteKey self-service kiosks use the laser technology and cut your key within just one minute. As soon as you pay, the keys come out of the kiosk. To know more about the cost and payment process and other stuff, please scroll further.
How Can I Make Car Keys at Walmart?
If the Walmart shop has a kiosk installed, you can easily make a duplicate of your car key with that by simply following a few simple instructions-
Press the "START" button
You have to insert your existing car key into the slot of the machine.
Then you can customize your key, such as choosing your preference of theme, print, etc.
You may select one or more keys to be cut. And that's all. It will now work on its own and make your keys.
Next, you may pay the price shown on the screen with cash or card by choosing the right option.
All of these steps will be visible on the digital screen of the kiosk in a user-friendly manner.
Walmart Car Key Copying Price:
Now let's talk a little about the price charged for car key copying at Walmart through the kiosk. This is definitely the most affordable price for making a key. Per key costs 2 dollars to 6 dollars which is less than any locksmith will charge.
If you decide to buy more than one copy, those will charge accordingly. Plus, it saves your time which is much more valuable than currency for anyone nowadays.
Walmart Car Key Copy Payment Process:
The payment is to be made through the MinuteKey kiosk itself. Be it a car key or any other key, it charges according to $2-$6 and you can pay it with card or cash. All types of cards including credit card, visa card, debit card, etc.
You have to insert the card and make the payment. Or you can go for the cash option as well. Either way its very easy and quick.
Does the Walmart Nearest me Copy Car Keys?
To identify which Walmart has the key copying service you can search on their website. You have to type in your location and then search if it has the Minutekey kiosk. Or you can go to the MinuteKey kiosk website and search for the nearest kiosk.
If it shows your nearest Walmart, then you are good to go. And if you can see the familiar yellow machine outside or inside the store while visiting, then you don't have to waste any time.
Also read: Does Walmart Cash Personal Checks? || Does Walmart Take PayPal?
Which Keys Can I Make using MinuteKey at Walmart?
Walmart does not copy the "DO NOT DUPLICATE" keys. If you want to copy a key using the kiosk, you must be the authorized person to do so. If it is of some high security or sensitive area, you can not copy that in Walmart. But any other normal and regular key like your car, home, office, business, etc. are all good to go.
Can I Copy Car Keys with Chips in Walmart?
Comparatively newer models of cars usually produce keys with a transponder chip or RFID. Unfortunately, Walmart cannot make or copy these keys. If you have a car key with a chip inserted in it, you have to go to the company to duplicate it. Anyone other than them is not authorized to copy that key.
Walmart is the only place where you can get so many different services at one place. They guarantee quick and quality service and their customer-friendly environment is a cherry on the cake. The Car key copying service through the trustworthy MinuteKey is probably the best place to make your duplicate car keys.
Minutekey gives assurance of 100% safety and accuracy and it costs just a minimal price. So you can copy your car keys, while grabbing the necessary things from Walmart, without a second thought.