The ASOS return policy is all you need to know about, when something just doesn't work for you and you want your money back. Don't fret, as long as the item is still in its original condition, ASOS will accept your return. Along with that, there are certain terms and conditions that you need to keep in mind before you return the unwanted item.
This article will walk you through the conditions, under which you are allowed to make fair use of the return policy and queries regarding it.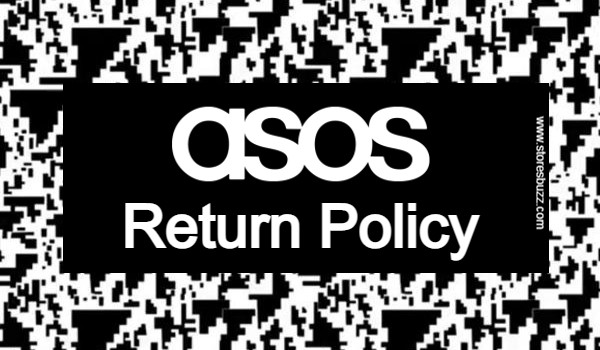 What is the ASOS Return Policy?
According to the ASOS return and refund policy, you can place a return request with ASOS, within 28 days of purchasing an item, or when the item being delivered to you. You will be given the full refund, in the original payment method.
Incase, your return request is made within 29 to 45 days of the item being either delivered to you or made available, ASOS will issue a gift voucher, which will come to your rescue. The issued gift voucher will contain the same amount of the price, that you paid for your item.
If your request exceeds the above given time frame, you will have to get in touch with Customer Care, and they will gladly assist you. But the refund will remain at their discretion.
What Happens after Placing the Return Request?
After you have placed the return request, the item will be evaluated in the ASOS warehouse. Keep in mind, that the item must be in its original condition and must come with its labels and tags.
If the requirements are met, the refund will be processed. Incase, the item is found to be faulty, your refund request will be denied.
Things to keep in mind before placing a return request.
The most important parameter for ASOS is that, hygiene should be maintained, for the safety of the customers. Hence, certain items cannot be returned. The following items are:
Any product concerning face or the body, cannot be returned after being opened. If the protective seal of the product is not intact, the company will not accept the return.
If labels are broken
If original tag is missing
In case of underwear, if hygiene seal is not intact, it is not acceptable for a return
It also applies in case of swimwear. Once the hygiene seal is broken, the refund is not going to take place.
If the seal of any jewellery has been tampered with or is found broken
Face covering will not be accepted because of safety and hygiene issues
Does ASOS Refund Delivery Charges, If You Return Something?
Delivery charges are refunded sometimes, under circumstances as stated by the Asos return policy. Incase, an order is found to be entirely faulty or incorrect, or when the order has been canceled under the Consumer Contracts Regulations.
How to Return Something to ASOS?
To return something, you need to create a return through 'my account' in the ASOS website. Certain conditions should be kept in mind before returning an item. The following are:
The return request should be placed within 45 days of receiving an item or it being available for the collection, which includes even items for sale.
To process a return request it can take up to 21 working days. This time frame excludes weekends and public holidays. This time frame, is for the orders to arrive back to the warehouse.
Return requests placed within 28 days of the order being delivered or made available for collection, a refund will be issued. The issued refund will take place in form of the original payment method. It will take up to 10 working days for the refund to show up in your account.
Incase, a return request is made after 28 days and within the limit of 45 days, a gift voucher will be issued of the same amount of purchase.
Do you Need a Returns Note?
You need to download a returns note from the 'attachments' section in the website. You will need to fill it out and put it inside your parcel, that you want to return. If your country isn't enlisted in the website, you need to use the 'rest of the world' returns note. Some of the countries that are available in the website are:
South Korea
United Arab Emirates
Singapore
New Zealand
Switzerland
United States of America
and so on, find it out on the ASOS page.
Can ASOS Exchange an Item Instead of Refund?
Exchanges are not offered by ASOS, as stated under ASOS return policy. In any case, all returned items will be refunded, once received by the warehouse, where it has undergone check. Incase there is a fault, regarding size or colour of the item, a new order is to be placed.
Is the ASOS Return Policy Extended for the Holidays?
The return policy during holidays are extended from the 1st of November to the 24th of December. Customers can place a return request up until the 31st of January. The orders which are received after the 31st of January will receive a refund in form of the gift voucher. To know about the gift voucher policy, go back to the previous section of the article.
In case you have received a 'faulty' item, what should you do?
Incase you have received a 'faulty' item, please return it as soon as possible. State 'Faulty' when asked for reasons, for your return. Under unfortunate circumstances, when you are not able to make a return, get in touch with customer care team, who will look into the matter and help you.
But no concessions will be made for items that are found to have wear and tear or, for items worn too many times. In that case, the return will not be refunded because ASOS carefully inspects its items on return. Do note that, ASOS does not send replacements for 'faulty' items, you have to inform them.
What If, a Return to Request is Made by Mistake?
ASOS is not responsible for any items that are returned by mistake. It is common, and it happens! In that case, you may be asked to cover the delivery costs. Returned items are responsibility of the customers until it reaches ASOS warehouse. So, make sure they are packed properly and, they don't get damaged on the way.
Conclusion
Please remember that, if a returned item is found to be damaged, worn, or is found to be in an unsuitable condition, the refund will be denied. Furthermore, the item will not be sent back to you. In some cases, you may even be asked to cover the delivery costs.
That is why, keep in mind about the inspection process, and return items which are unworn and unused, and in its original condition in which you have received them. They should bear original packaging, all tags and labels attached to them. In order to receive the full refund, make sure, all the above needs are met.